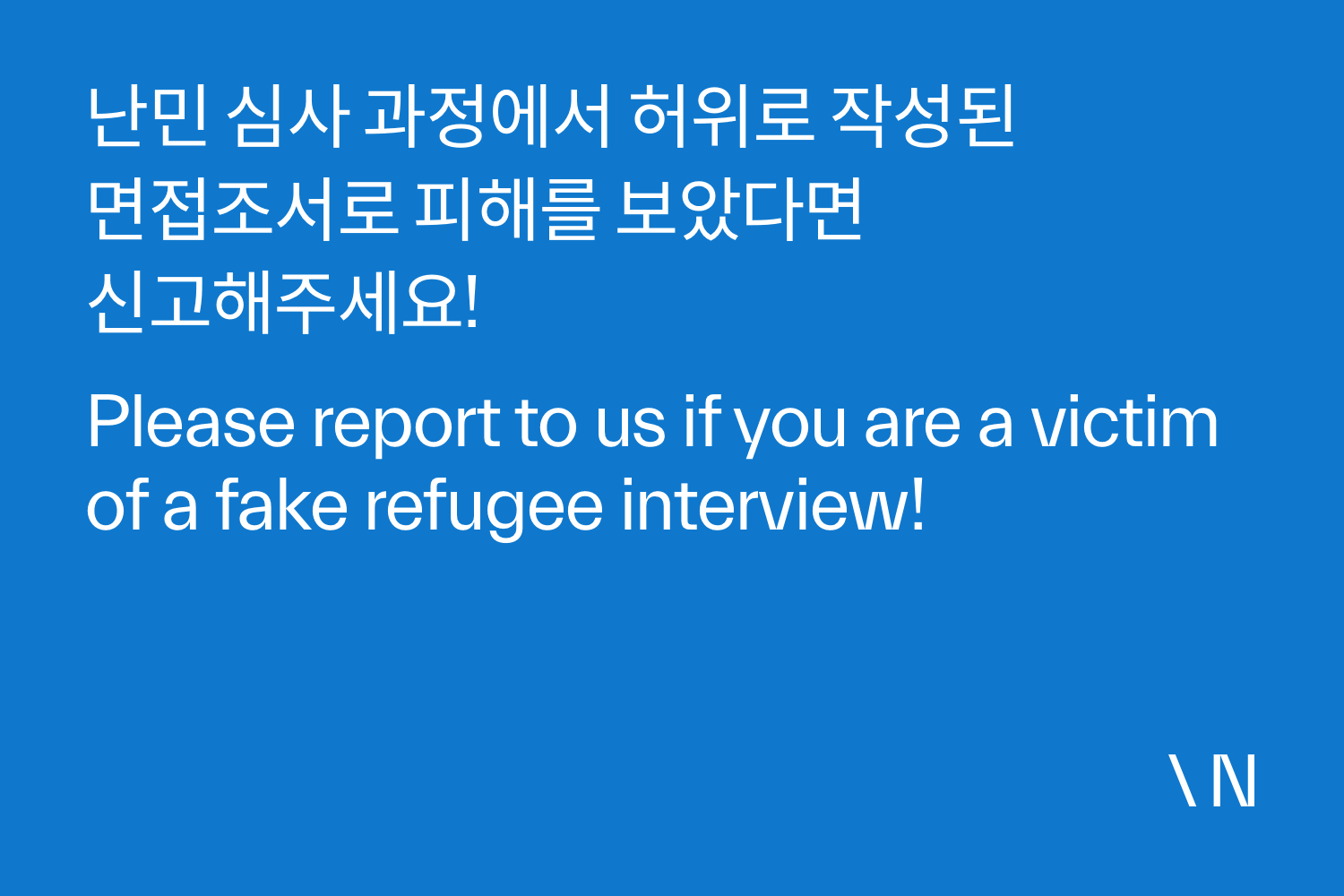 한글 안내문 : https://nancen.org/1958?category=118726
Arabic version : https://nancen.org/1960?category=343568
Last year, Nancen has found 57 cases of fake refugee interview. Nancen is currently demanding the Ministry of Justice investigate the issue, to serve justice for the victims, and to take measures so that such things will not happen again. If you have been a victim of the fake refugee interviews, and you want Nancen to help you, please let us know.
You could be a victim if one or more of the following applies to you:
❍ Was there something in your refugee interview paper that you did not say?
(For example: "I applied for refugee status to find work in Korea" "What I wrote in the refugee application paper is not true" "I am not in danger even if I go back to my country")
❍ Were the reasons given in your refugee status disapproval paper different from what you claimed?
❍ Was the refugee interview really short(less than 1 hour)?
❍ Are you an Arabic speaker, and were your refugee interview conducted between in 2015 - 2017?
2. Check your interview paper by asking the refugee office to provide a copy.
❍ You can go to the office where you did the interview and ask them to provide a copy of the interview paper. (They might refuse to give you a copy. If so, let us know.)
❍ Check if there is the content of the paper is different from what you said during the interview. (If you can't find a translator, you can contact us for help.)
3. Please report to us!
❏ If you suspect that your refugee interview paper could have been faked, let us know like this:
- Send us your phone number and refugee interview paper to us by Email(refucenter@gmail.com).
- Or, you can call us at 02-712-0620. We pick up phone calls only on Wednesday.
❏ Your case will be notified to the Ministry of Justice and the National Human Rights Comission, who will investigate your case, and after we will help you find justice, such as a re-interview.